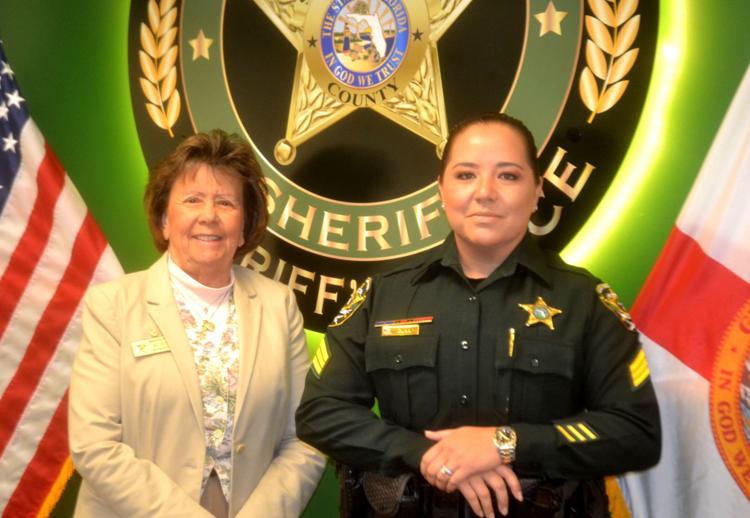 Editor's note: This is the first in a two-part series about the "change of the guard" in the Highlands County Sheriff's Office Crime Prevention Unit, which now has a sworn deputy, Sgt. Kimberly Gunn, taking over for retiring civilian head, Crime Prevention Specialist Nell Hays.
SEBRING — Tuesday marked the last day at Highlands County Sheriff's Office for Nell Hays, crime prevention specialist. In the last 20 years, she said, she's seen changes in the task, and at the same time, some things have never changed.
She started Jan. 19, 2000, under Sheriff Howard Godwin. Prior to that, she had worked as a volunteer at the Sheriff's Office and as a part-time employee. Her task was to get out in the community and talk up ways people could prevent themselves from becoming victims of crime.
It helped, she said, that the sheriffs under which she worked had a proactive attitude to crime prevention, especially Sheriff Susan Benton and now Sheriff Paul Blackman.
"When the sheriff thinks a lot about crime prevention, it works," Hays said.
Tracking how well it works can be a bit difficult after doing public outreach on a particular type of crime, Hays said.
"The only way you can is if you had stats on a crime and if it went down [afterward]," Hays said. "It really depends on the veracity of the stats."
Still, some — Hays might say "all" — crime prevention involves a great deal of common sense by the average person.
"Lock your doors. Lock your cars," Hays said.
It also helps to cover or hide anything in the car that might attract a burglar/thief. Once, Hays said, someone broke into her car — broke the window — to steal her toll-booth change from the central console cup holder.
Scams have stayed very much the same, with a few differences or with only one or two disappearing from common use.
Hays said she hasn't seen the "pigeon drop" as much as in the past: A scammer tells a potential victim of having a lottery or scratch off ticket worth a high amount — $10,000 or more — which they can't redeem for some reason. They offer to sell it to the victim for $2,000, and it isn't until the victim pays and takes the card to redeem it that they learn it's no good.
Other than than, Hays said, the scams have stayed the same. She recently pulled one of the pamphlets she used in 2006. While one of the new ones involves Social Security checks, most of the scams are still the same.
Sgt. Kimberly Gunn, who will succeed Hays as head of Crime Prevention, said it's been her perception that some elder residents trust others, especially younger people, more than they should. It may be that when they came up in the world, more people could trust a handshake deal, or that someone who knocked on the door asking for help genuinely needed it.
Even the act of hitchhiking has all but disappeared. Hays said her late husband used to hitchhike up and down U.S. 27 when he needed a ride. Hays also said that starting in the 1960s, warnings began emerging about the dangers of being robbed or assaulted while hitchhiking or picking up hitchhikers.
Communities and organizations have long asked for seminars on preventing burglary, theft, embezzlement and/or scams, Hays and Gunn said.
Lately, they said, it's been active shooter security assessments and preparation.
Prior to the SunTrust shooting last year, Gunn said, people used to say, "It will never happen here." It turned out to be "not if, but when," Gunn said. he always feared it would be a school, and was thankful it wasn't.
Requests have spiked on the type of seminar, Gunn said: So much so that her calendar has already filled up.
As the county has grown, so has the demand not only for those types of seminars, but all types, Hays said.
Hays used to print out pamphlets on the types of seminars available, but these days it's easier to tailor a seminar to each group's or business' situation.
Plus it's easier than listing them. At last count, Hays had 20 to 30 different types of seminars available, with room on the shelf for plenty more.
It may not be easy for one person to get to every request in a week, but no less needed and useful. Hays and Gunn said no one really knows what crimes were prevented by someone taking advice and using it, because no crime occurred.
But that's the point, and one they want to see realized.