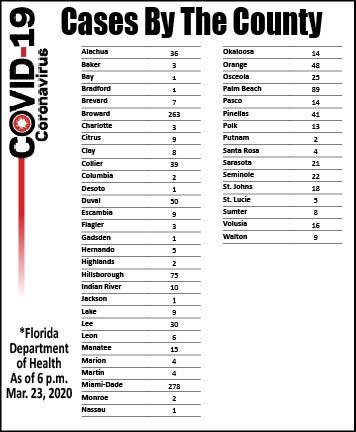 SEBRING – Coming on the heels of Highlands County's first case of confirmed coronavirus on Sunday, the county now has two confirmed cases of COVID-19. The Florida Department of Health updated its numbers with an update early Monday.
What we know is the second person is a 77-year-old woman. According to Florida's COVID-19 Data and Surveillance Dashboard run by the FDOH, the woman does not appear to be in the hospital and it is unknown at this time whether her case is travel related.
The woman whose positive test was confirmed Sunday is being treated in the hospital. It has been reported that the 78-year-old woman did not travel outside the country.
As of Monday, FDOH dashboard stated there were 18 tests in Highlands County with 12 negative results, two positive results and four results are still pending.
However, Highlands County Officials told the Highlands News-Sun, the number of people who have been tested is much higher than the dashboard is showing.
Highlands County Public Information Officer Gloria Rybinski said she was not at liberty to say how many tests have been given.
In total, there are 18 "people under investigation." They range from the ages of 1 to 79 years of age and the average age is 47.
The state numbers as of 6 p.m. Monday were:
• Total cases – 1,227
• Florida residents – 1,147
• Deaths – 18
• There have been 13,965 tests given with 11,637 of those having negative test results and another 1,101 still pending.
Highlands County Sheriff's Office Public Information Officer Scott Dressel asked residents not to call the dispatch center for questions on COVID-19. Dressel said people are calling to ask dispatch if their church is open for service and other non-essential calls.
"Dispatch is not the place for questions about the coronavirus," he said. "If they have questions about a certain place they need to call the place and ask if they are open."
No quarantine orders have been issued nor curfew announced. However, health officials with the Centers for Disease Control and Prevention and local governing bodies still want the public to practice social distancing, washing hands for 20 seconds (at least) with soap and avoiding gatherings where 10 or more people will congregate. They are telling everyone to stay home if possible.
In a press conference Monday at The Villages, Governor Ron DeSantis said there has been little in community spreading. DeSantis said there is not a need for a mandate to "stay home" with senior citizens because he said they would do the right thing. He did scold other groups that have balked about the closures and ignoring social distancing. He said if you avoid contact with people who have the virus, there is a good chance of avoidance. He said a stay-at-home order could cause hardship for many.
The state COVID-19 24/7 question line is 866-779-6121.