POLK COUNTY — On Wednesday, May 27, a Bartow woman was arrested for murder in the death of a 4-month-old infant.
According to a release from the Polk County Sheriff's Office, Samantha Mariel Angeles-De La Rosa, 28, was the only adult at her residence on Tuesday, May 26, when PCSO and Polk Fire Rescue arrived at about 9:45 a.m. The victim was unresponsive upon arrival by first responders, with multiple bruises to her body, head and face.
Despite the efforts of first responders on the scene and staff at Winter Haven Hospital, where the baby was taken, she was pronounced dead at around 10:45 a.m. May 26. Per law, no information has been released about the victim's identity.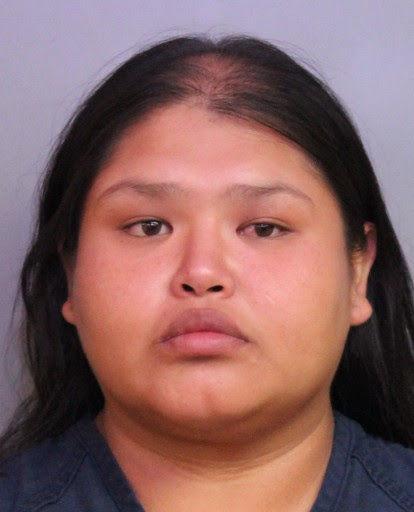 Angeles' originally told detectives that a 21-month-old toddler who was also at the home had caused the injuries to the baby, pulling her off of a changing table and onto the floor. Angeles suggested that this had been a pattern of behavior, and that the toddler had previously used toys to hit the baby in the face.
According to PCSO officials, however, an autopsy by Polk County Medical Examiner Dr. Stephen Nelson produced findings that conflicted with Angeles' account of events.
For instance, Nelson advised that such injuries were caused by blunt force trauma and could not have been caused by a fall to the carpeted floor from the height of the changing table. Further, Nelson noted healing fractures to the victim's ribs and left forearm that were older but had to have been caused by significant force.
Nelson advised PCSO detectives that the cause of the infant's death had been blunt force trauma to the head and that it was a homicide.
Pressed by detectives on the findings, Angeles' account of events began to shift and, eventually, she admitted to causing the victim's injuries.
According to the release, Angeles told detectives that on the morning of the incident, she'd been changing the baby's diaper and that — when the infant would not stop crying — she began thinking about "how overwhelmed she is in life." She told law enforcement officials that she, too, began to cry, that she "lost it in a split-second" and proceeded to grab the baby by the shoulders and strike her head twice against the wood frame of the changing table.
Samantha Mariel Angeles-De La Rosa was taken into custody, held without bond and will appear before a judge this afternoon, May 28. She is charged with one count of second-degree murder and two counts of aggravated child abuse.
"There is absolutely no excuse to hurt a baby," Polk Sheriff Grady Judd said in a statement. "We will hold this woman accountable for her actions."
Judd went on in his statement to implore any caregivers who are feeling overwhelmed to seek help.
"If anyone is feeling overwhelmed or out of control, please seek help from family, friends, clergy or a social services agency," Judd said. "Get help."